In a recent interview with Les InRockuptibles Robert Pattinson confirms two more movie projects we haven't heard of yet!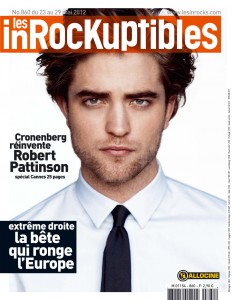 What are you working on right now?
RP: I'm going to do a movie about The Band, the one that played with Dylan: a beautiful script about the nature of songwriting. I'm preparing a thriller too, with a beautifully written script too. It doesn't have a director yet. Tons of French diretors are in line to to do. A few years ago, Latin America was where it's happening, it seems it's France turn now ... I'm filming another movie with Cronenberg but i don't know when he wants to start filming. It's going to be his first one in France and he promises it's going to be very strange. The next two or three years are going to be crucial for me. It's now that that everything happens.
Here a few more questions from the interview we found interesting:
Apart from the bands you mentioned, what kind of music do you like?
RP: Not much lately, except for a hip-hop band. Death Grips, it's a mix of rap and techno music. It's pretty hardcore, not what I usually like but they have something, an undefinable genius. A few years back I had a big Van Morrison phase, a real obsession. I listen to Jazz and classical music a lot too. I must be getting old.
I read somewhere that you admired porn actors. Is that true?
I said that? *laughs* I don't remember that but why not. The subject interests me. I've always wanted do to something around this subject. It's one of the most interesting thing happening in our generation, don't you think? Everybody watches it but don't want to say it out loud. It's heavy kind of event and no one wants to write about it. I tried to two years ago but it lead to anything. Did you ever watch the AVN (note: Adult Video News) Awards? It's hilarious. There are so many of these people and they're so proud of what they do ... And when it comes to fighting for freedom of speech, they're the first in line. We can only admire them.
What did David Cronenberg tell you when he called you?
RP: My agent sent me the script over a year ago but at that time it was Colin Farrell who was attached to the project. I told myself: "Fuuuuuuck, this script rocks! Why can't I be offered something like that? And why do you send me the script if the role is already taken *laughs*?" And one year later, out of nowhere, David calls me: "Hey do you want to do this movie?" I was terrified! The script looked so complex to me. A year before I was dreaming of it and then I felt unable to make a decision. It took me one week to find the courage to call David back.
Did he explain to you why he chose you?
RP: No, never. he didn't even make me
audition
. When I asked him about it, he told me he had a feeling ... when I told him that I wasn't sure what the movie was about, he replied: "Me neither, we're going to find out together." This is why I'm really curious to see people's reaction, even more so than usual.
Were you familiar with David's work before?
RP: Yes, I saw almost all his movies.
Which ones did you prefer?
RP: Probably Videodrome or Scanners. I like Crash a lot too. It did well in France, right? In England, I remember how people went nuts because of it. They even banned it! Of course, that made everyone wants to see it. When I watch it nowadays, it baffles me that it could have been banned. It's absurd.
Click HERE for the full interview at Robert Pattinson Life.